How do plus size women wear rompers and what styles is best for their body shape? This blog post will go over the different styles of plus size rompers and how to style them.
Plus size rompers come in many different shapes, colors, lengths, and fabrics. There are also two types of plus size romper:
1. One piece that wraps around your body like a skirt or jumpsuit, or
2. Two pieces where you have an open back with matching shorts on the bottom.
Rompers is a trend that has been picking up steam in summer. Rompers are perfect for hot summer days when you want to feel cool and comfortable.
With so many different styles out there, it can be hard to know which one will work best for your body type. Here's a rundown of how to wear and style rompers!
1. Wear a romper with belt to cinch in the waist
Wearing a romper with a belt to cinch in the waist is an excellent idea to give some extra definition around your waist.
Here are few examples;
You can wear a black romper with a print of your choice paired with a white belt.

If you are extroverted and optimistic, courageous and confident, you can always wear a red romper paired with a black patent leather belt.
Again, this will provide some extra definition around your waist.
Blue rompers can be a good choice for you if you are on the conservative side. Any type of blue would be fine, even if the romper is made of denim fabric. You can pair your blue romper with a black belt.
Another option would be to wear a white romper and pair it with a black belt.
2. Go for a long leg romper
Long plus size rompers can show off your curves. If you have a little extra weight in the midsection, a long romper is perfect for showing it off while hiding it at the same time. Pair this flowy outfit with wedges or heels to elongate your look and make your legs appear longer than they are.
Long plus size rompers can make your legs look longer and leaner, while showing off some skin at the same time!
3. A wide leg romper is your best choice
Stay away from skinny leg rompers if you have hefty thighs or pear-shaped bottom. Consider the wide leg romper to give you an hourglass shape. In addition to the wide leg romper, go for a nice pair of wedges or 4–5-inch heels. They are the best options for rompers.
Wearing heels when wearing your romper is a great style tip!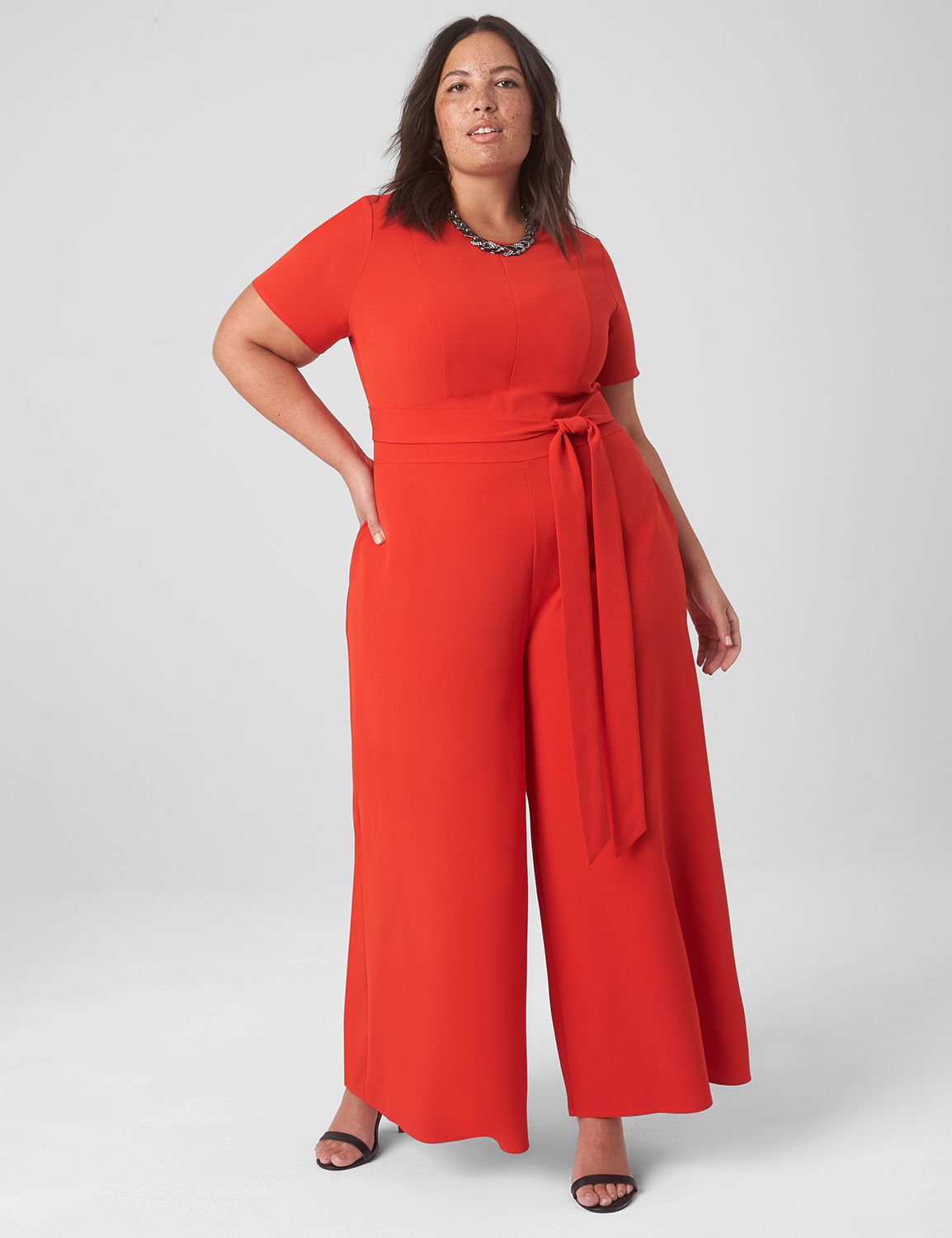 4. High waist rompers hide and flatten your Tummy!
The high waist plus size romper hugs your curves in the right places and accentuates all the right parts in your body so you feel confident when wearing them.
The high waist one piece romper is a popular style lately. The waist sits higher up on the stomach which hides any extra skin or lumps if that's where you want to hide it.
5. Hide the arm jiggles with sleeves
Longer sleeves are always a good idea for coverage. However, long sleeves can make your whole look heavy.
Having 3/4 length sleeves, sheer sleeves or lace sleeves would be a better option to add coolness and some sort of coverage.
6. Choose the perfect flattering neckline
These days, fashion designers are creating beautiful plus size rompers in a range of different necklines and styles. Below is a list of suitable necklines for plus size rompers:
Asymmetrical neck or off-shoulder rompers/rompers are adorable and sexy. This is a perfect style for plus size women because you can pull it off without showing too much skin, but still show some sexy curves. You can wear this romper with a statement necklace and a cute matching bag.
For the bottom half, you can dress this look down with a pair of sneakers, or dress it up with some great wedges.
Asymmetrical neckline is very versatile as well as easy to wear which makes it one of the best styles for summer.
V-neck style rompers are perfect for plus size women, especially if you have a large bust.
V-neck rompers are designed to enhance your assets while hiding your problem areas.
Plus size women can wear V-neck style rompers with some cute statement necklaces for a night on the town.
V-neck rompers are great because they give you an hourglass figure which makes you look curvier than usual.
A boat neckline ruffle romper can flatter a plus size woman's body by drawing attention up and away from the upper body and towards your legs and hips.
With a boat neckline ruffle romper, you actually create ways to show off both your chest and thighs while still looking classy and stylish.
The off-shoulder romper style is so flattering and versatile that it can be worn by everyone from hourglass to pear, apple, and rectangular shapes, as well as ladies with a larger or smaller bust.
The off shoulder romper in plus size simply adds a touch of glitz to an otherwise plain look.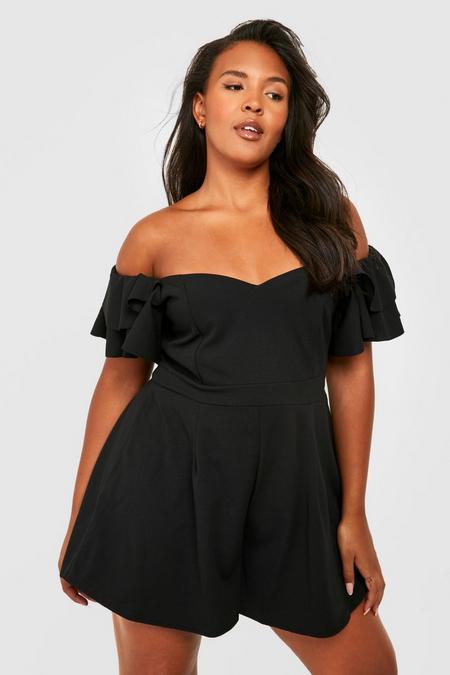 Draped necklines are great for plus size women for a few reasons. One reason is because the draped neckline lays down nicely over the bust, creating a slenderizing look across your shoulders. Plus sized rompers with draping or ruching along the neckline will help to draw the eye away from the shoulders and chest area to the middle of the torso.
Additionally, draped necklines create folds along the center front of your body which will help camouflage any tummy bulges that may be hanging out there. In the summer, draping along the neckline is also much cooler than any other type of neckline.
A romper with the scoop neckline design may be worn successfully in lovely plus size rompers. It's great for all body types, especially plus size ladies since the open style emphasizes the appealing collar region.
Final Thoughts:
The options of plus size rompers out there are endless, which is why it's important to know what your favorite style of romper is before you start shopping. This post has given examples of how you can wear the plus size rompers and how they will work for various body shapes.
How would you like to wear your plus size romper? Let us know by leaving a comment below!